WORLD'S ACCURATE TIRE PRESSURE MONITORING SYSTEM 🔥
Nobody wants to suffer a

 

breakdown

 

on the road, TIRE SMART® Tire Pressure Monitoring System can effectively provide you with more

 

Security, Informed and Worry-Free Driving.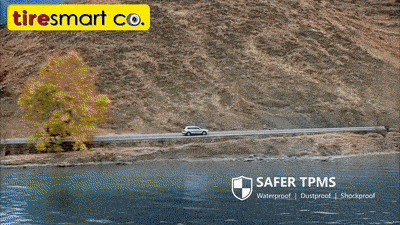 4 EXTERNAL CAP SENSORS – REAL TIME PRESSURE & TEMPERATURE
: Reports 4 tires pressure simultaneously and temperature, Improve fuel efficiency, prolong tire life and ensure drive security
2 CHARGING WAYS – SOLAR POWER & USB CHARGING:

 

The solar panel on the unit is high efficiency and with built-in lithium batteries, no need to charge it for a long time.
SUITABLE FOR ANY CAR TYPE:

 

Suitable for tire pressure range less than 87 Psi or 6.0 Bar, like sedans, SUV, MPV and etc. (1. If the sensor does not work properly or the accuracy is not accurate after using it for several months, please replace the battery so that it can work. 2. Please feel free to contact us if you do not know how to replace the battery of the sensor.)
EASY TO INSTALLATION – SELF-INSTALL IN 10 MINUTES:

 

Easy, Zero Drama install. Just take a few minutes to finish the installation. And it shuts off automatically when the car is motionless for a period of time and automatically turns back on once motion is detected.
SPECIFICATION
Suitable for tire pressure range less than 6.0 Bar / 87 Psi
Can monitor tire temperature from -40℉ to 176℉
Solar and USB charging for convenient use
LCD screen with digital display 
IPX67 waterproof & dustproof
Voltage DC 12~24V
Extend tire's life, reduce wear of tires and prevent accidents
We're proud to have over 30,000 happy customers from all around the world. Having made some of the most innovative products on the planet, we want to make sure we back that up. If you're not 100% satisfied with your purchase of the TIRE SMART®, you can return it for a FULL refund within 30 days AFTER you have received your order.
If you want to hear what others say about TIRE SMART®, check out the reviews below. They're all genuine reviews from customers just like you. 
Let us know if you have any questions or need anything. We're here for you.