Electric Chair Cushion Massager
14 Days Money Back Guarantee + Special Gift Included.
⚠️Last day of sale! Only available online.
Your Personal Massage Therapy Tool To Get Spa-like Massage Anywhere, Anytime!
Are you suffering from body pain from stress and work pressure? No more suffering!!
Stay relaxed, and warm always with this amazing Electric Chair Cushion Massager.
Multiple levels of vibration and optional heat on the seat cushion provides an exact desired massage for hips and thighs, and helps to alleviate tension, increases relaxation and promotes healing.
Say goodbye to aches and stress forever!
STURDY & VERSATILE MASSAGER: Made of soft foam and durable fabric that lasts longer and gives you the ultimate comfort. The versatile massage pad can be fitted onto all car seats, home, and office chairs, reclining sofa, or bed. It also comes with an integrated adjustable strap to make it easy to attach the massager to any seats and chair stable.
MULTIPLE MASSAGE SPEEDS & ENTIRE THERAPY: Multiple massage programs focus on specific spots on the upper, middle, and lower back lumbar, neck, hips, and thighs. You can combine all these spots in a simultaneous base on your customizable selections that provide you total comfort and pressure relief.
SUPER VIBRATING & WARM: The high power motor allows you to have vibrating, and warming therapy both together. You will have ultimate massage therapy as you prefer to have. You can turn on infrared heat in the winter and can turn off if you don't need it.
Our Customers loves us, here's why:

Pilore MassagerChair™
Remote control included
Quality control for your safety
American Customer Service
Free Shipping (7-21 Days)
14 Days Money Back Guarantee
Others
No remote control included
No Quality Control
No Customer Service
Charges for Shipping (30 Days+)
No Money Back Guarantee
ULTIMATE PAIN RELIEF SOLUTION: It's a safe, simple, and effective solution to sooth away neck, shoulder, thigh aches. It's a must-have massager for work breaks, long days at work, and exercise recovery.
DEEP MASSAGE & STRESS REMOVER: The massager features nine massage motors that penetrate deeply into your back and thighs to help release stress, fatigue, tight muscles. Also, it improves blood circulation after getting off work or a long trip.
INCLUDED REMOTE CONTROL & FOLDING OPTION: The remote controller can be used to choose a function at your will and be stored in your pocket. You don't have to get up from the massager to turn it on or off. Also, you can fold it up after usage, and store it in any bag.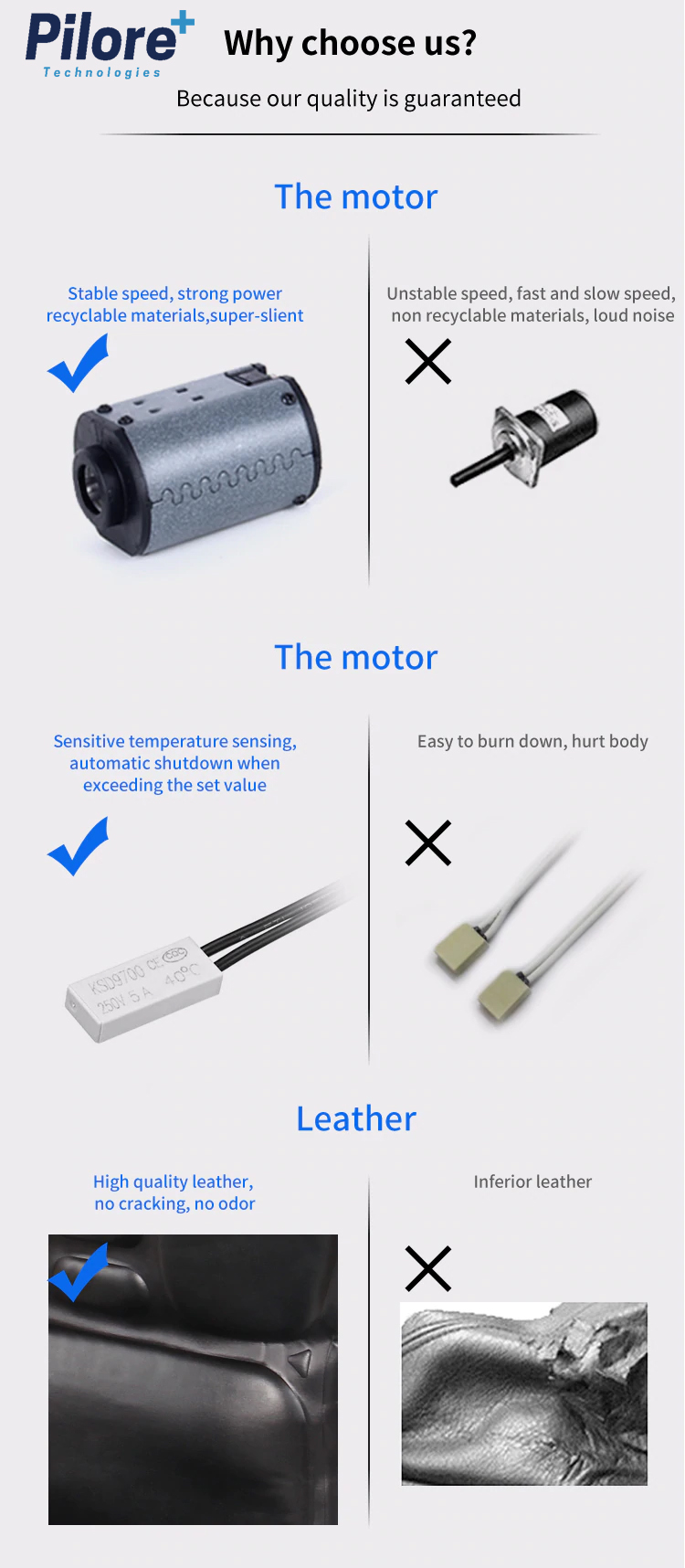 -Looks nice, wide application of the crowd.
– Can be controlled by pressing the corresponding key parts of a massage ball, to achieve the personalized massage
combinations.
-Double-sided design to meet the needs of different aesthetics. Cover material is mutispandex.
-May relieve discomfort and reduce pain, relieve fatigue, relax body, and mind quickly.
– To promote smooth body meridians, enhance immune cell activity, and enhance brain self-regulation.
-Frequently used as the human endocrine, and enhance skin elasticity, improve sleep and improve digestion with some
support.