WITH THE
 

MAGIC OF WATER DROP BACKFLOW

 

VISUAL EFFECT TO ELIMINATE INDOOR POLLUTION.
YOUR PETS AND FAMILY WILL LOVE IT
It's like "Now You See Me 2" Jesse Eisenberg making the rain stop and raindrops move around at his command, but in a mini version in your bedroom – while also keeping the air clean and healthy in the process.
Plus it'll entertain everyone in a room, also preventing pet depression.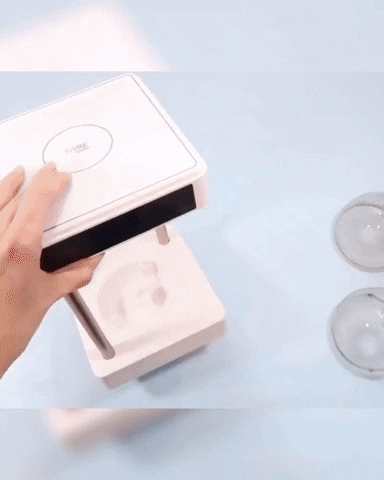 There can be several reasons why a Pet gets depressed. It may be overall uncertainty in these difficult times, as pets can sense it from their owners.
No matter the reason why, be sure to give it extra time and attention until its happiness level improves. Some new toy would definitely be beneficial too!
Mesmerizing anti-gravity droplets, and the soothing sound of flowing water.
Removable magnetic hourglass pieces to promote interaction
Sophisticated and modern house decor Lamp combined with air purifier
 Uses clean water, and can also function with essential oils for added aromatherapy (hourglass on is advised then using oils)
HOW IS IT PURIFYING INDOOR AIR?
Released with the flow of water droplets, creates 10 million negative ions per second, forming a high concentration of negative ion barrier, the air can combine bacteria, dust formaldehyde, second-hand smoke, PM2.5 particles and other harmful substances
Lamp is made of aluminum and glass that forms an elegant shape. The geometrical body and the beautiful curve of the glass funnel combines together give it a solemn appearance yet still has a graceful flow.
Specs
Weight: 3.4lbs
Dimensions: 6.2in x 6.2in x 10.66
200ml water storage tank
Uses clean still water
BEST REVIEWS
ANTIGRAVITY OPTICAL ILLUSION. COOL LAMP!
Stephanie S on May 16, 2020
My son had his heart set on this lamp. It was the only gift he asked for for Christmas, so I had to get it for him, despite worrying that it wouldn't live up to being as good as it looks. Happily, I was wrong! It is very cool! It set up easily and quickly and works just as it should. It looks like globs of water are defying gravity, floating upwards. We're very pleased with the product. It's an interesting and fun addition to a desk.
5 STARS!
Wendy on May 15, 2020
I bought 2 of these fountains – one for work and one for home. They are AMAZING especially for the price!!! I spent a few weeks debating on buying this but I'm so glad I did. I have gotten so many compliments on this fountain. It looks more expensive than it was. It's beautiful and fits any decor but is so serene sounding! The soft lighting in each tier make this a beautiful piece at night too. Would definitely recommend.
AWESOME ADDITION TO MY WORKSPACE ENVIRONMENT.
Brian on May 10, 2020
I've tried several fountains so far. This one is awesome, the pump is quiet, as is the water, it simply provides a really nice environmental impact on my workspace. I run it up to 8 hours in a day, use distilled water only and clean it periodically, and it's running just like new after several weeks. Not all of the fountains that I've tried work quite so well, I'm impressed and happy with this purchase.6 month update. If I could give this thing 6 stars, I would. It runs so quiet, and I nearly let it go dry last weekend *(3 day weekend and forgot to turn it off…) – once I filled it up again it was just as quiet as ever. I'm beyond impressed. Still cleaning it periodically and using only distilled water.
MY PARAKEET LOVES IT!
Wendy on Apr 16, 2020
I bought this for my parakeet who loves to takes baths. He flew to it right away. Four stars b/c I have only had it working for 30minutes now, so I can only comment on it as new. I am hoping it last at least a year. It is a nice compact size and has the sound of running water. I like that they provide rocks. So far a great purchase.
ELEGANT AND AWESOME
Brian on Apr 15, 2020
This is a beautiful piece of art. Not only is it beautiful, it's soothing and hypnotizing. I love it.
AMAZING! TOTALLY WORTH THE BUY!
Kiara C on Feb 26, 2020
This was honestly so amazing! It was suuuuper easy to set up but I haven't found a way to set the timer yet 🙂 totally worth the buy! It has such a nice sound and the light is not too dim nor too bright 🙂 my sister fell right asleep to the noise!
AWESOME!!!! AN ABSOLUTE WORK OF ART
Patty I on Feb 25, 2020
Love love love. Always a conversation starter and people love to watch it
IT'S AMAZING
Maria C on Dec 28, 2019